Membership as a type of product allows a user to buy membership. Detailed information about memberships in Kentico CMS can be found in Developer's Guide -> Development -> Membership, permissions and security -> Memberships.
Membership as a type of product has the following special properties:

•Membership group - indicates to which membership group this paid membership belongs.
•Membership validity - can be set either for a limited period of time (days, weeks, months, years, until a given date) or for unlimited period of time. To set your membership validity for unlimited period of time, choose Until and leave the text box below empty.
Further in this topic you will learn how to create, buy and renew your paid membership. Besides, notifying about membership expiration will be mentioned briefly:
Creating a paid membership product
To create a new product of this type, go to CMS Desk -> E-commerce and on the ribbon click

New product. You will be redirected to the New product page. From the Product type drop-down list choose Membership and by filling in the form fields set your product properties as required. Click

Save.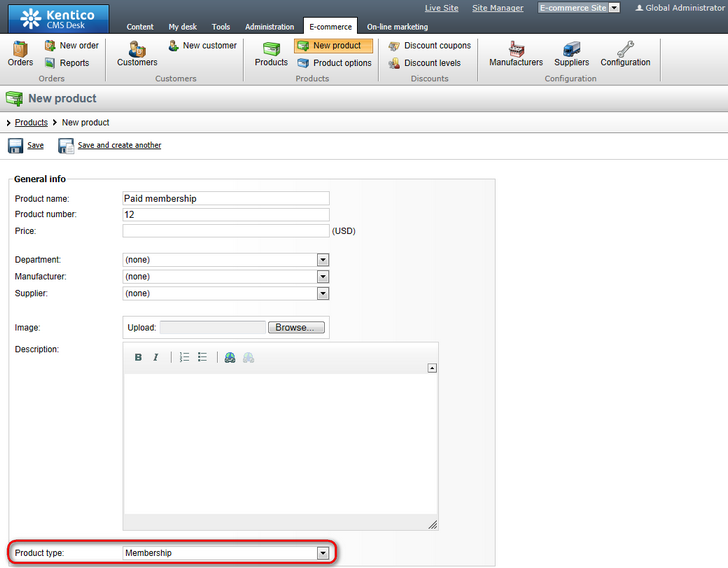 Buying membership
From the point of view of the customer, there is no difference in the way memberships and any other types of product are bought; i.e. memberships can also be bought by going through the standard checkout process.
However, the customer gains membership only when the order is marked as paid. This can be done either automatically by the system on condition that the order changes its status to one with the Mark order as paid property enabled (available in CMS Desk -> E-commerce -> Configuration -> Order status -> Edit (

) order status)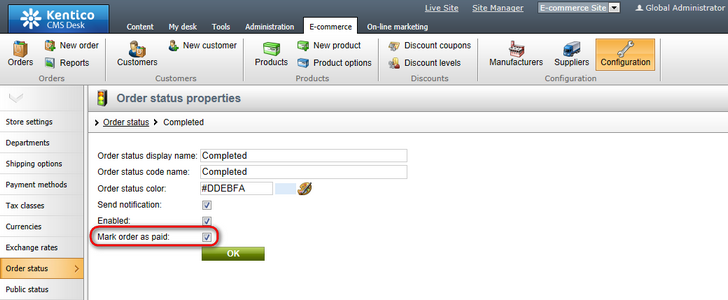 or manually by a store administrator by enabling the Order is paid property (available in CMS Desk -> E-commerce -> Orders -> Edit (

) order on the Billing tab).

Marking a memberships order as paid, both automatically by the system and manually by an administrator, results either in renewing the existing memberships or assigning new ones.
Please note

If an order for memberships with validity in time units already marked as paid is unmarked, the validity is reduced by these unpaid units.

If an order for memberships with unlimited validity or validity set until a particular date already marked as paid is unmarked, the memberships are removed completely.
Notifying about membership expiration
If membership is close to its expiration, the system can be configured to send the customer an automatic notification reminder. For more details, please refer to the Memberships chapter of the Developer's Guide.
Renewing membership
To have an expired membership renewed, the user can either ask the administrator to perform the renewal or they can buy a new membership on the My Account page on the live site. By clicking the Memberships tab, the customer can view a list of their memberships and gets access to the Buy membership button. By clicking this button, they will be redirected to a page allowing them to buy new memberships or renew the existing ones.