Important!

If you wish to use the Data.com integration, you need to apply hotfix 7.0.44 or newer.
Data.com integration can help keep your Kentico CMS contacts and accounts up-to-date. Data.com allows you to access a community‑managed business directory that is updated on a daily basis. You can look up your current contacts and match them with Data.com contacts. In the same way, you can look up the accounts that you have in Kentico CMS and compare them with Data.com company profiles.
The system provides two ways to update your on-line marketing data using Data.com:
•Manually - users can look for matching contacts or company profiles directly in the contact or account editing interface.
•Automatically - you can set up marketing automation processes that automatically update your contacts according to matching Data.com contacts. You only need to add the Update from Data.com action step to your automation processes.
By combining these two methods, you can ensure that your contact and account data is up-to-date and accurate.
Data.com authentication

Kentico EMS requires a valid Data.com account to communicate with the Data.com service. The system requests Data.com authentication credentials for:

•Users - users need to enter the credentials of a Data.com account when accessing the Data.com interface for the first time. The system stores the credentials in the settings of the user account, so the duration of the Data.com authentication is unlimited.

•Automation steps - each Update from Data.com step in an automation process uses its own Data.com account. You can fill in the credentials when creating or editing the steps.
To search and compare contacts, go to one of the following locations in the user interface:
•CMS Desk -> On-line marketing -> Contacts -> Edit (

) contact -> Data.com
•Site Manager -> Tools -> Contact Management -> Contacts -> Edit (

) contact -> Data.com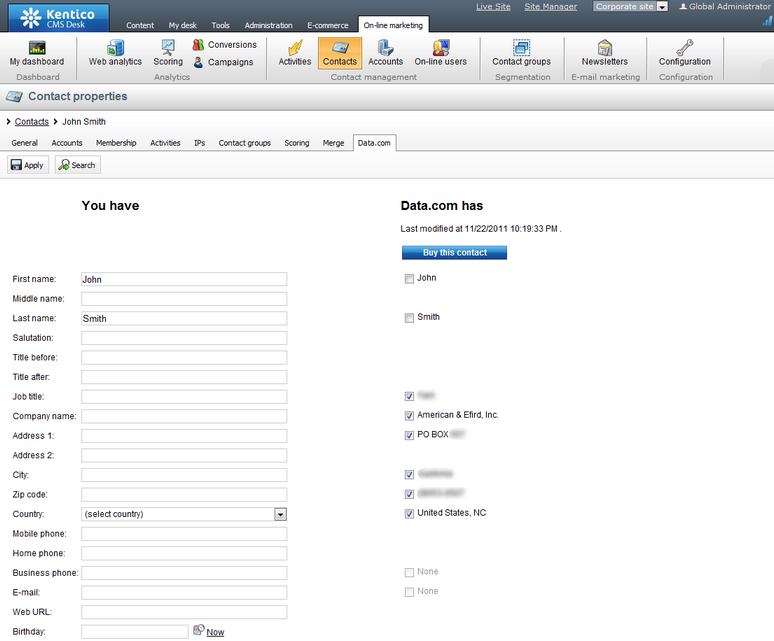 To compare accounts, navigate to one of the following locations:
•CMS Desk -> On-line marketing -> Accounts -> Edit (

) account -> Data.com
•Site Manager -> Tools -> Contact Management -> Accounts -> Edit (

) account -> Data.com