In this sub-chapter, you will learn about settings which influence and modify the behavior of the Contact management module. These settings can be adjusted in the Site Manager -> Settings section of the system's user interface. Here, they are located in the On-line marketing settings category and its sub‑categories.
The following topics in this sub‑chapter contain explanations of settings with related functionality:
•General contact management settings - explains general settings related to the Contact management module.
•Enabling tracking of activities - explains which settings need to be adjusted in order for activity tracking to be functional.
•Allowing the use of global objects - explains what global Contact management objects are, how their use can be enabled.
•Geolocation - explains how you can configure geolocation to automatically fill in contact data based on IP addresses.
•Automatic deleting of contacts - explains which settings may be used to configure the system to periodically delete unnecessary contacts and their activities.
Depending on your selection in the Site drop-down list, you can either adjust the settings for a particular website, or globally if the (global) option is selected. Global settings can be inherited by individual sites if the Inherit from global settings check-box next to a site‑specific setting is enabled.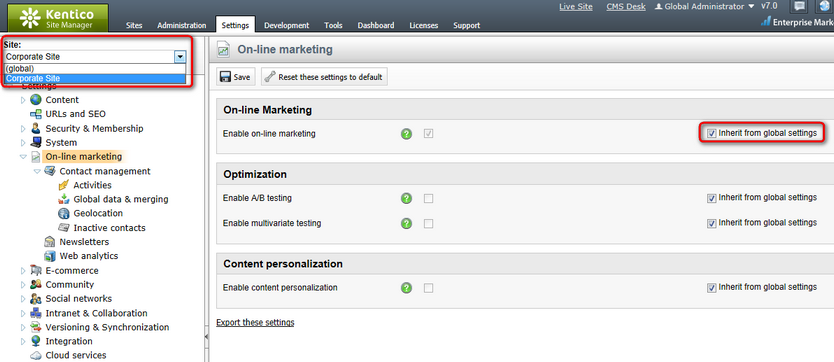 As you can notice if you browse the settings categories, there is a number of other settings not listed in this sub‑chapter. These settings have no direct relation to the Contact management features and are explained in respective chapters of this guide dedicated to the features which they influence.