Form records (data submitted by website users) can be viewed and managed in CMS Desk -> Tools -> Forms. In the list of forms, you need to click the Edit (

) icon next to a particular form. You will get redirected to the Data tab of the form's editing interface, where particular records are listed.
Each of the records listed in the grid has the following actions available:
•Edit record (

) - allows you to alter the record.
•Delete record (

) - allows you to delete the record.
You can also perform the following actions using the buttons in the tab's header:
•

New record - used to manually add records to the current form.
•

Select displayed fields - enables you to select which of the form's fields should be displayed in the grid.

A form's records may be exported into an external file using either the XLSX (Excel), CSV or XML format. This can be done by clicking the

icon in the header of the Actions column in the grid and then selecting the appropriate option from the context menu.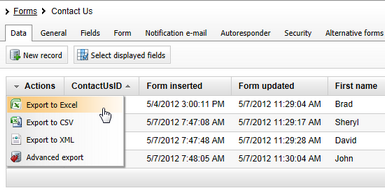 The Advanced export option opens a dialog where you can specify which rows and columns should be included in the exported data. For detailed information about exporting data to files, please refer to the Modules -> UI data export chapter.
In cases where a large number of records is displayed, you can create a filter for limiting which records should be displayed. To learn more about this possibility, please refer to Modules -> Alternative forms -> Creating filter forms.
When editing (

) or creating (

) a record via the administration interface, the form is displayed the same way as on the live site, letting you enter or change the values. Additionally, you can decide if notification and autoresponder e-mails should be sent when you save the record.