Kentico CMS allows you to have your website content translated into multiple languages. In a multilingual store this typically applies to products, which may have separate language versions. Individual cultural versions of your on-line store content may be displayed to the customers automatically based on various settings, and the users of your website can also switch between individual languages manually using dedicated web parts.
If multilingual support is enabled in your on-line store, you can see a dedicated section with language selection options above the product sections tree. Using the options, you can switch between particular language versions of the currently selected section or product. Besides, the Languages column in the list of products indicates which cultural versions are currently available on the website.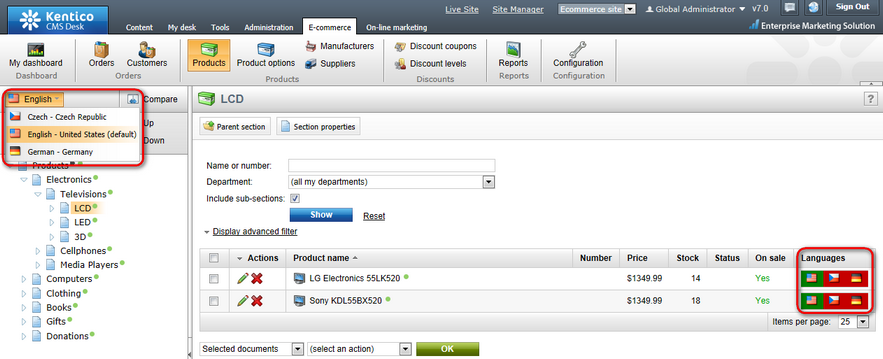 You can also click the Compare (

) button to switch to the language version comparison mode and edit language versions side-by-side. However, currently only product fields in General tab -> Custom properties (except for those added to the Ecommerce - SKU table), along with the following product fields in General tab -> General can be localized (and also the Section name field when editing a product section):
•Product name
•Short description
•Description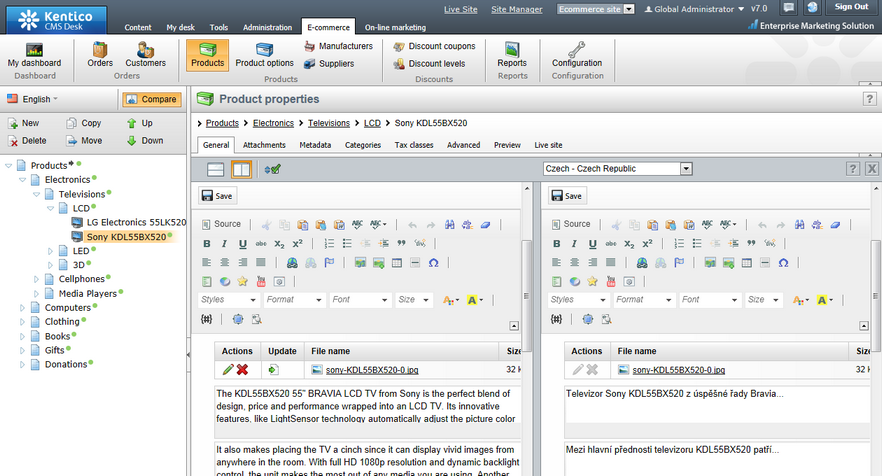 Please note that only a product created the recommended way (i.e. created as SKU + associated product type document) can be localized. This means that a separate product object (i.e. stand-alone SKU) cannot have different language versions.
For further details concerning the use of multilingual content in Kentico CMS, please refer to the Multilingual content chapter in the Content management section of the Developer's Guide.