Go to Kentico CMS Desk -> E-commerce -> Configuration -> Store Settings and set the following values:
General tab
Currencies
•Main currency - the default currency used as base for calculation of exchange rates. After clicking the Change button a new dialog appears enabling you to select items which should be recalculated according to exchange rate to the new main currency.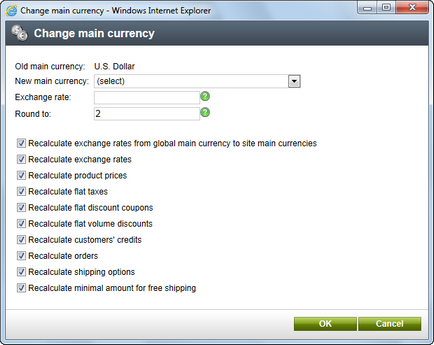 The description of other settings located on the General tab can be found in the Sitemanager settings topic.
E-mails tab
The description of the settings located on the E-mails tab can be found in the Sitemanager settings topic.
Checkout process tab
Here you can either create a new step in the checkout process by clicking the

New step link or you can Edit (

) or Delete (

) the existing steps or change their succession (

), (

). You can also generate a default process using the Generate default process link or you can generate the process from global settings using the Generate from global process link. However, in both these cases, your current process will be lost.
For more information about purchase process please refer to the Customizing the purchase process chapter.
Global objects tab
On this tab you can enable the use of E-commerce module global objects for the current site. More details on how to perform this task can be found in the Enabling the use of global objects topic.