Kentico CMS comes shipped with the integrated Image editor that enables you to edit images of four image formats: .bmp, .gif, .png and .jpg. The editor can be accessed throughout the whole system, everywhere the Edit (

) icon is available for a listed image, just like in:
•Media libraries
•Document attachments
•CMS.File documents Form tab
•Product images
•Form files
•etc.
After the Edit (

) icon is clicked, the following Image editor dialog is displayed: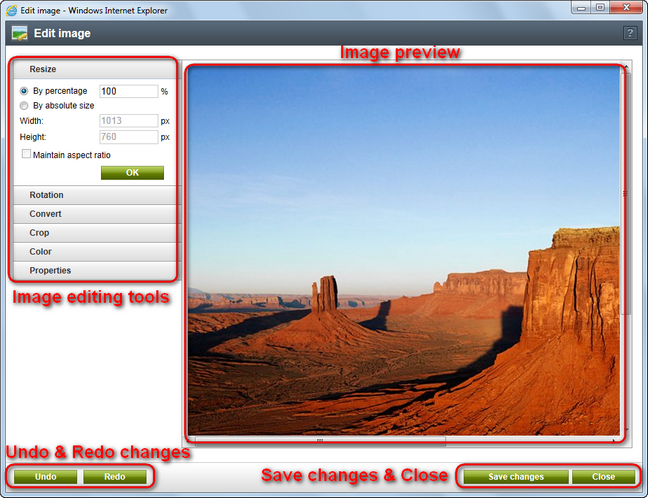 •Image editing tools - enable you to perform actions such as Resize, Rotation, Convert, Crop and Color adjustment; you can view also the Properties of the image.
•Image preview - previews the current change to the image.
•Undo & Redo changes - you can undo and redo the changes made to the image.
•Save changes & Close - if you want to keep the changes you have made, you can save the image; or you can leave the editor and keep the original image.
For more information on how to perform the Undo & Redo changes and how to use the Save changes & Close buttons, please refer to the Saving changes topic.