Some objects can also be exported separately as single object packages. This is useful when you want to quickly export only one or few objects apart from the rest of all other objects.
Single object export is supported for: CSS stylesheets, Document types, E-mail templates, Form controls, Inline controls, Page layouts, Page templates, Web part containers, Web parts, Workflow schemas.
These objects can be found in the corresponding sections in Site manager -> Development or Administration. You can export an object by clicking the Export object (

) icon.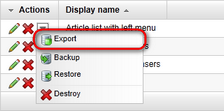 Or the

Export selected link in case of Page templates and Web parts.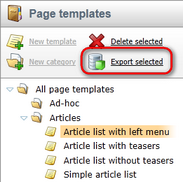 The following window will appear. Enter the name of the export file (default name will be pre-entered) and click OK.

Now wait while the object is being exported.

When the exporting is successfully finished, the following message with path to the exported file will be displayed. The Download object link below can be used for storing the file into a different location. Click it to open the typical file download dialog of your web browser.

Finally, close the window by clicking the Close button.