The Web Analytics module allows you to track and analyze website visits, page views, file downloads and other metrics of the website. The module runs in the background of the website collecting all statistics information.
The Web analytics module can be accessed in CMS Desk -> Tools -> Web Analytics. As you can see in the screenshot below, when you select a report on the left, the corresponding statistics are displayed on the right. You can choose the year, month, week and day. The screenshot shows a detailed report with graphs and a table.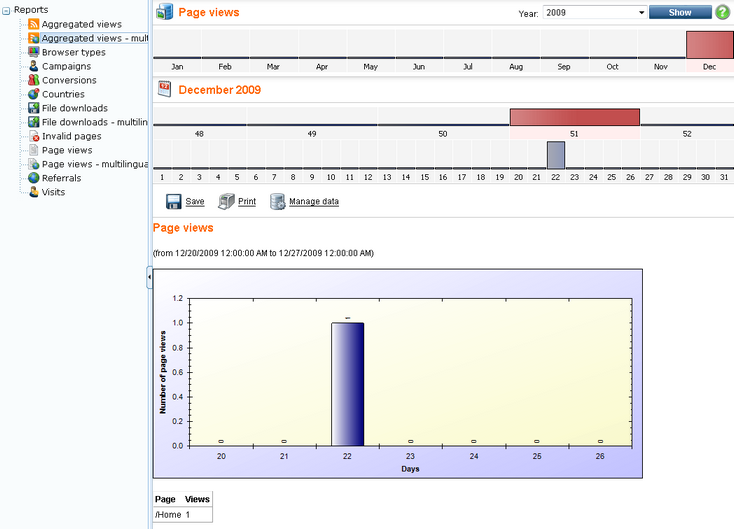 How it works
When an event (page view, file download, etc.) occurs, it is saved in a file in the ~/App_Data/CMSModules/WebAnalytics/ folder. The format of the file name is:
<event type code name>_<date>_<time>.log
Every minute, a new file is created. A scheduled task reads the closed files every minute (or other scheduled interval) and imports the data into the database. This data is then displayed by means of the reports defined in the Reporting module.
The name of the scheduled task is Process analytics log and you can control its status and settings in Site Manager -> Administration -> Scheduled tasks.
Enabling the Web analytics module
The Web Analytics module is disabled by default. You can enable it in Site Manager -> Settings -> Web Analytics by checking the Enable Web Analytics check-box.
Page url: http://devnet.kentico.com/docs/5_5r2/devguide/index.html?web_analytics_overview.htm