The security is split into two sections:
Management of events
Since the events are standard documents, the users who manage them need to have appropriate document permissions as described in Permissions for modules and documents.
Management of attendees
The attendees can be managed in the Tools -> Booking system module. The permissions for this module in the Administration -> Permissions section need to be granted to the users who want to perform the management.
You can assign the following permissions to the roles:
•

Modify

- allows users to modify (add, update, delete) the list of attendees and their details
•

Read

- allows users to read the list of attendees, resend messages and send mass e-mail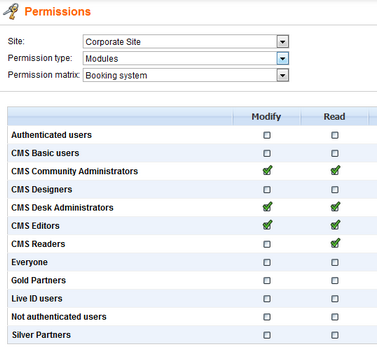 Page url: http://devnet.kentico.com/docs/5_5r2/devguide/index.html?module_booking_system_security.htm