As the e-mail queue allows the sending of massive amounts of e-mails, we've implemented the Mass e-mail feature. This feature enables you to send the same e‑mail to a large amount of users.
You can do this at Site Manager -> Administration -> Users -> Mass e-mail.
Using the Site drop-down list, you can select which site the recipients are related to. Based on this choice, users can be selected either directly, or according to the roles or group that they are members of by using the Add users buttons in the Recipients section. If you choose the (all) option from the site drop‑down list, only global roles (those that are not limited to a single site) will be available and the Groups section will be hidden since groups are always site‑related.
You can also add an attachment to the mail using the
Attach file link.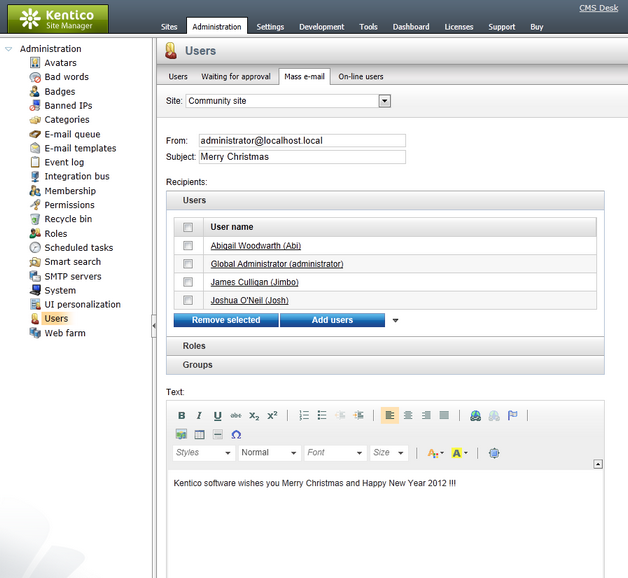 This tab is also available at CMS Desk -> Administration -> Users -> Mass e-mail, but only users of the current site can be selected.
In the e-mail queue, you will see the Show details link instead of a recipient's e-mail address for mass e-mails, as you can see in the screenshot below.

After clicking the link, a window will appear as in the screenshot below. You can delete recipients from the list, so that the mass e-mail will not be delivered to them. This can be done using the Delete (

) icons or by selecting more recipients using the checkboxes and clicking

Delete selected.