Windows Live ID is a single sign-on service provided and maintained by Microsoft. By integrating Live ID into your website, you can allow site visitors to log in to your website using their Live ID login and password.
How to start using Windows Live ID
For this to work on your site, you have to do the following:
1. Register your website at https://manage.dev.live.com/ - to learn how this can be done, please refer to Registering your application.
2. Set up Kentico CMS for Live ID authentication - for more details, please see the Settings topic.
3. Use one of the Live ID web parts on the appropriate page on your site - more information in the Available web parts topic.
How it works
The following diagram shows how the process of Live ID login works.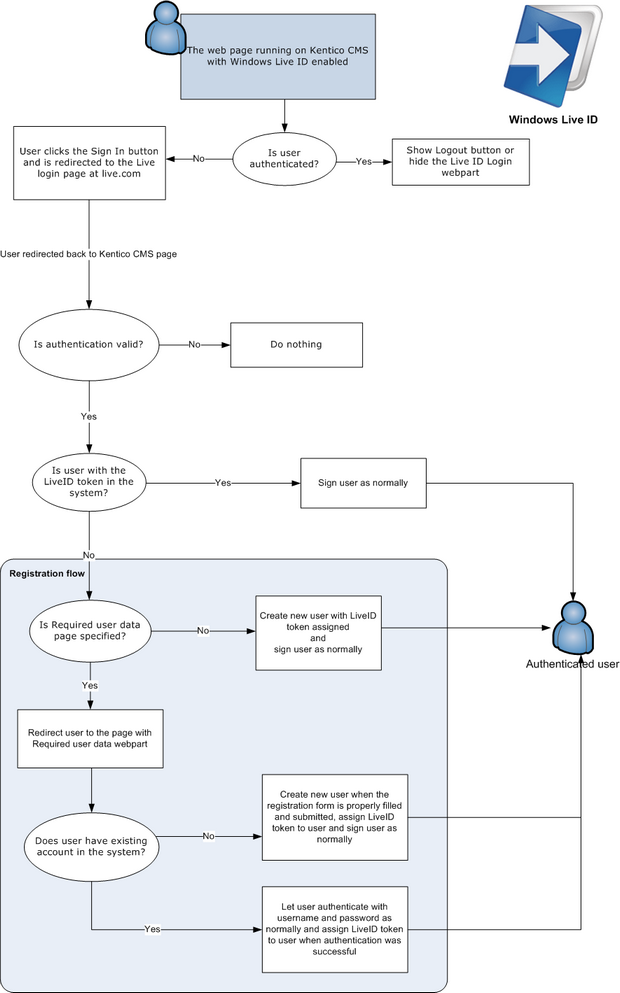 Registration approval and double opt-in

If your site is configured to require registration approval or double opt-in, first-time users who attempt to log in with their Live ID will be redirected to the standard logon page without any further information, which may lead to confusion.

This issue can be avoided by creating a Required user data page (described later in this chapter) where users must enter an e-mail address for their account. When this is done, users will receive a notification e-mail about the status of their account.