To use Facebook Conntect authentication on your website, you need to register the site at http://www.facebook.com/developers/createapp.php. You need to have a Facebook account to get to the page (you can create it here http://www.facebook.com/).
The following text describes the registration procedure and points out important information that you obtain during it. Please note that the design of the screenshots below may not be identical as Facebook changes its design quite often.
1. With a facebook account created and logged in, visit http://www.facebook.com/developers/createapp.php. Enter the following details into the form:
•App Name: enter the name of your website, e.g. Kentico CMS - testing
Read and Agree to the Facebook Platform Policies and click Continue.

2. Retype the CAPTCHA on and click Submit.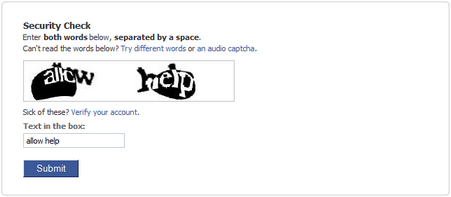 3. Your application will be registered and you will see the Basic tab of its editing interface. Here, you should focus on the two keys highlighted in the screenshot below, as you will need to enter them in Site Manager -> Settings -> Social networks -> Facebook:
•App ID - this is what you will enter into the API Key field
•App secret - this is what you will enter into the Application secret field
Copy them accordingly into your Kentico CMS instance as described in the Settings chapter.
4. Check Website with Facebook login option. Here, you need to enter the URL of your website into the Site URL field. Click Save Changes.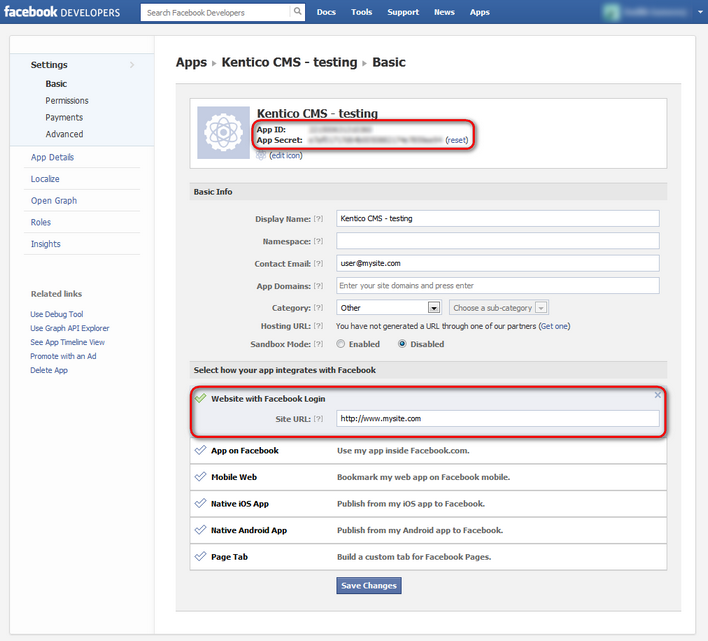 Authentication on localhost

Using Facebook Connect authentication on localhost may result in incorrect behavior of the authentication. This behavior is by design of the Facebook Connect API. To achieve the required functionality, a standard domain name must be used and the domain name entered in this step must match the domain where your web application is actually running.
Your web application is now registered at Facebook. With proper settings and web parts, users will be able to authenticate to your site using their Facebook logon details. You can also set up Autoposting of content to Facebook directly from CMS Desk.