You can perform the following operations with documents quickly by dragging and dropping in the content tree.
•Move - just drag and drop the document
•Copy - drag and drop while holding CTRL
•Create linked document - drag and drop while holding down CTRL+SHIFT
The following steps describe the process of dragging and dropping a document:
1. Select the document that you want to move.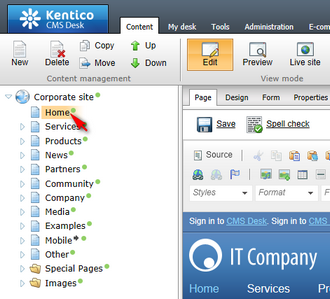 2. Move the mouse to the target location while still holding down the mouse button.

3. Release the mouse button. The document will be moved to the location where you dropped it.

4. If you drag the document a bit to the right ...

5. ... it will be placed under the document above it.