Kentico CMS is able to perform most operations without writing to disk. However, there are situations when the web application needs to write to the disk for optimal operations or performance, such as importing/exporting a site or storing uploaded files in the file system (which is optional).
If you receive the error message depicted below, saying that the web application cannot write to disk, you need to grant the Modify permissions on the whole website folder to the appropriate user account.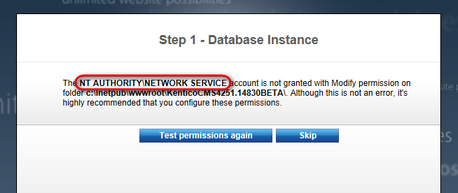 User account of the web application
The web application runs under a user account that depends on your environment. Please note that the accounts listed below are just the default ones, they may be different in your environment. However, the name of the account is always displayed with the error message, as highlighted in the screenshot above.
•On Windows 7, the user account is the local IIS_IUSRS account by default.
•On Windows Vista or Server 2008, the user account is the local NETWORK SERVICE account by default.
•If you're using Visual Studio's built-in web server, it is running under your account.
You can see the name of the user account under which the application runs in Site Manager -> Administration -> System dialog.