The WebClient service is a client prerequisite for connecting to a WebDav server. The service comes pre-installed if you are using desktop versions of Microsoft Windows. However, you need to install it as part of the Desktop Experience feature when using Windows Server 2008 and 2012.
Installing WebClient service on Windows Server 2008 and 2012
1. Start the Windows Server Manager.
2. In the tree view, click on the Features node.
3. In the details pane, click Add Features.
4. In the Add Features Wizard, check the Desktop Experience box, and then click Next.
5. Click Install.
6. When the Add Features Wizard has finished, click Close.
7. Click Yes when promoted to restart the computer.
Running WebClient service
1. Press WinKey + R or type into the search dialog:
services.msc
2. Press Enter. The Services window opens.
3. Right-click the WebClient service.
4. Click on Properties. The WebClient properties window opens.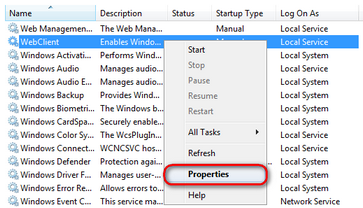 5. If the service is stopped, click on Start.
6. Change the Startup type to Automatic.

7. Click OK to confirm the changes.