The Forum search page is accessible from the Forums page, after clicking the Advanced search link of the Forum search box web part. The page contains the Forum search - advanced dialog web part which enables searching the forums with extended search criteria.
1. Go to CMS Desk, select the Forums page from the content tree and click New. Choose the Page (menu item) document type.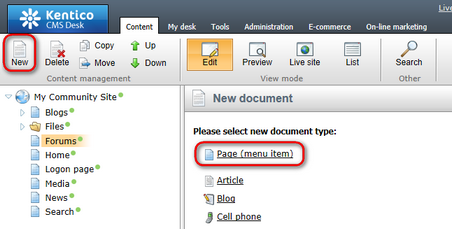 2. We will use the page template created in the previous chapter as the starting point. Choose the My Community Site templates -> My Community Site - Forums page template. Enter Forum search into the Page name field and click Save.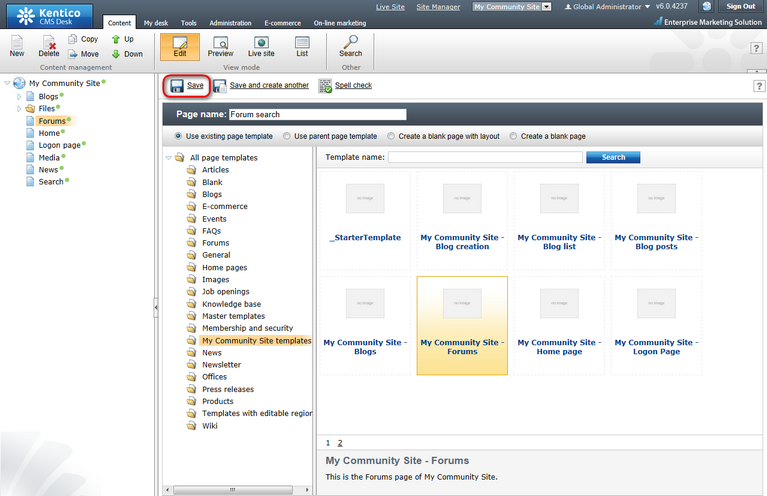 3. Switch to the Properties -> Template tab and click the Save as new template link. In the pop-up dialog, enter the following details:
•Template display name: My Community Site - Forum search
•Template code name: MyCommunitySite.ForumSearch
•Template category: My Community Site templates
•Template description: some text describing the page template
Click OK. Click Save.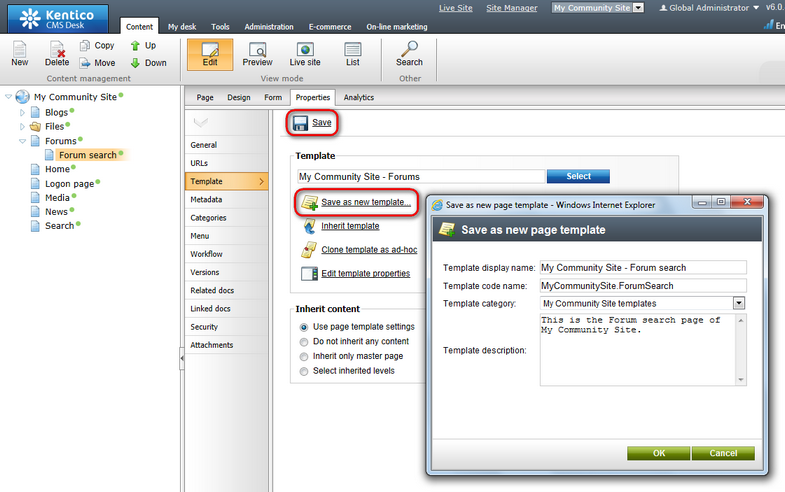 4. Switch to the Design tab. Firstly, delete all web parts so that only the editabletextHeader and ForumSearchResults web parts remain.

5. Click the Add web part (

) icon of the zoneLeft web part zone and choose the Forums -> Forum search - advanced dialog web part. You can leave all properties of the web part at the default values. Drag and drop the web part between the other two web parts on the page.
6. Switch to the Page tab and enter Forums advanced search into the Editable text web part's text box. Click Save.
7. The page is finished. If you view it in Design tab, it should look as in the following screenshot.