KenticoCMS fully supports Microsoft Windows Server 2008 and Internet Information Server 7. Should you experience difficulties with import/export on IIS7, please go through the following steps:
1. Open IIS manager.
2. Open Application pools section.
3. Select application pool of your site and select Advanced settings... .
4. For property Managed Pipeline Mode select Classic instead of Integrated
or
You can select Classic .NET AppPool for your website.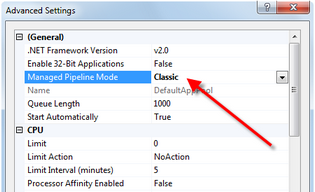 Page url: http://devnet.kentico.com/docs/5_5r2/devguide/index.html?configuration_on_w2008iis7.htm