The Forums section contains the typical discussion forums that can be found on most websites on today's Web, allowing site users to read and contribute to discussions on various topics. While forums are one of the most common features on today's websites, we won't go deep into describing how they can be used, as we believe it should be a familiar subject for you already. For detailed information on the Kentico CMS Forums module, please refer to Kentico CMS Developer's Guide -> Module Forums.
If you enter the Forums section as a site visitor, you can see that the forums are divided into two main sections - Community forums and Back-packer forums. These sections are called forum groups. Forum groups contain forums (Announcements, Community FAQs, ...) and the forums contain particular threads. There are two types of threads:
•

Discussion forums

- threads contain standard discussion on a given topic
•

Question-Answer forum

- threads are structured so that the first post is a question and the following posts are trying to answer the given question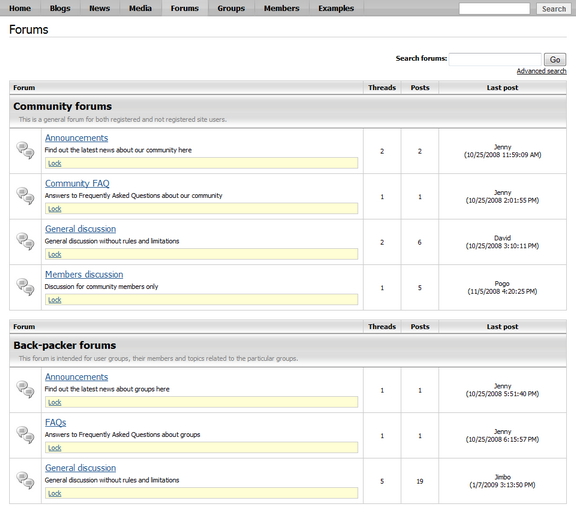 If you view the Forums page in CMS Desk's Design tab, you can see that each forum group is displayed via one Forum group web part. You can place a forum group to any page of your website by placing the Forum group web part on the page and setting its Group name property.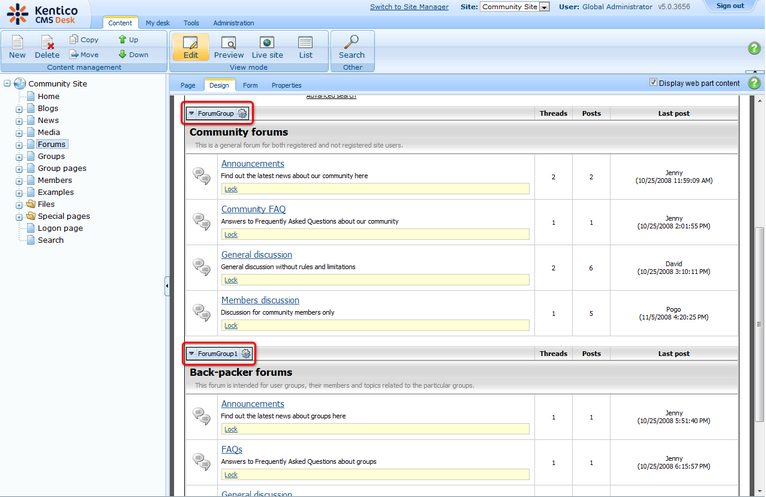 Forums management can be performed in CMS Desk -> Tools -> Forums. On the page, you can see a list of existing forum groups. By clicking the Edit (

) icon, you can enter the Forum group properties section.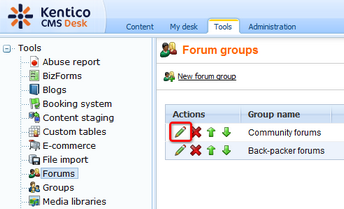 There are three tabs available in this section:
•

Forums

- a list of forums in the forum group; you can change the order in which the forums will be displayed by clicking the

Move up

() and

Move down

() arrows; you can also

Delete

() particular forums or click the

Edit

() icon, which displays the forum's management section described below
•

General

- on this tab, you can set some basic properties of this forum group; the properties can be inherited by particular forums
•

View

- displays a preview of how the forum group appears on the live site

The forum management section accessible by clicking the Edit (

) icon offers the following tabs:
•

Posts

- tree-like view of threads in the forum, with the possibility of performing management tasks like editing or deleting posts, replying to them, approving or rejecting, etc.
•

General

- general properties of the forum, which can be inherited from the forum group's general tab mentioned above
•

Subscriptions

- management of subscriptions; users can subscribe to receiving notifications about new posts
•

Moderators

- on this tab, you can set if the forum is moderated and assign site users with the rights to moderate this forum
•

Security

- on this tab, you can set permissions for particular actions in the forum
•

View

- displays a preview of how the forum group appears on the live site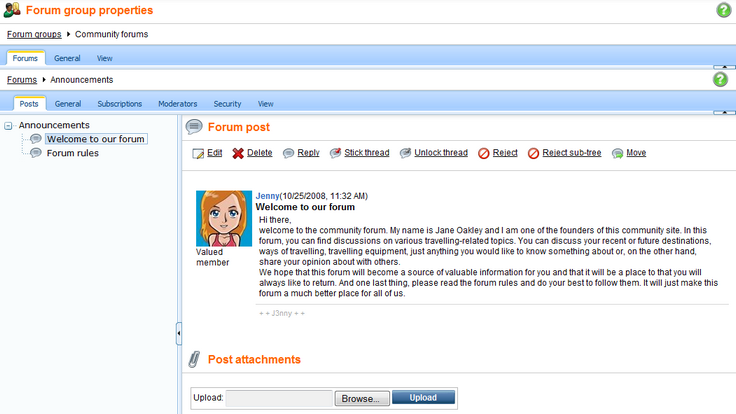 Page url: http://devnet.kentico.com/docs/5_5r2/communitysiteguide/index.html?forums_current_functionality.htm